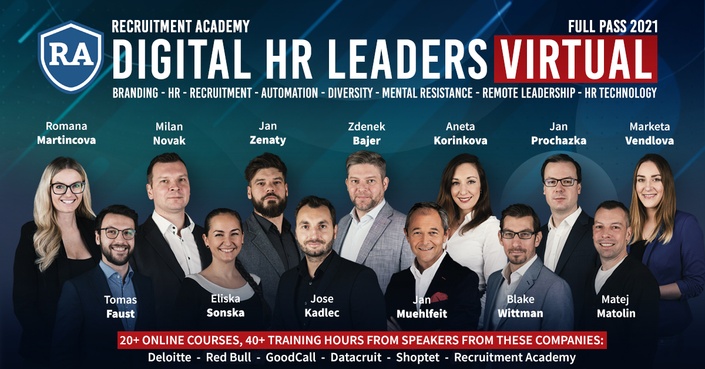 TRAINING DIGITAL HR LEADERS 1.0 - VIRTUAL FULL PASS
Unique series of 20+ online courses from 12 different speakers
Do you have a problem with finding high-quality employees? Do you want to become a competitive HR professional of the new age? Do you want to get a complex HR education that will prepare you for the current challenges?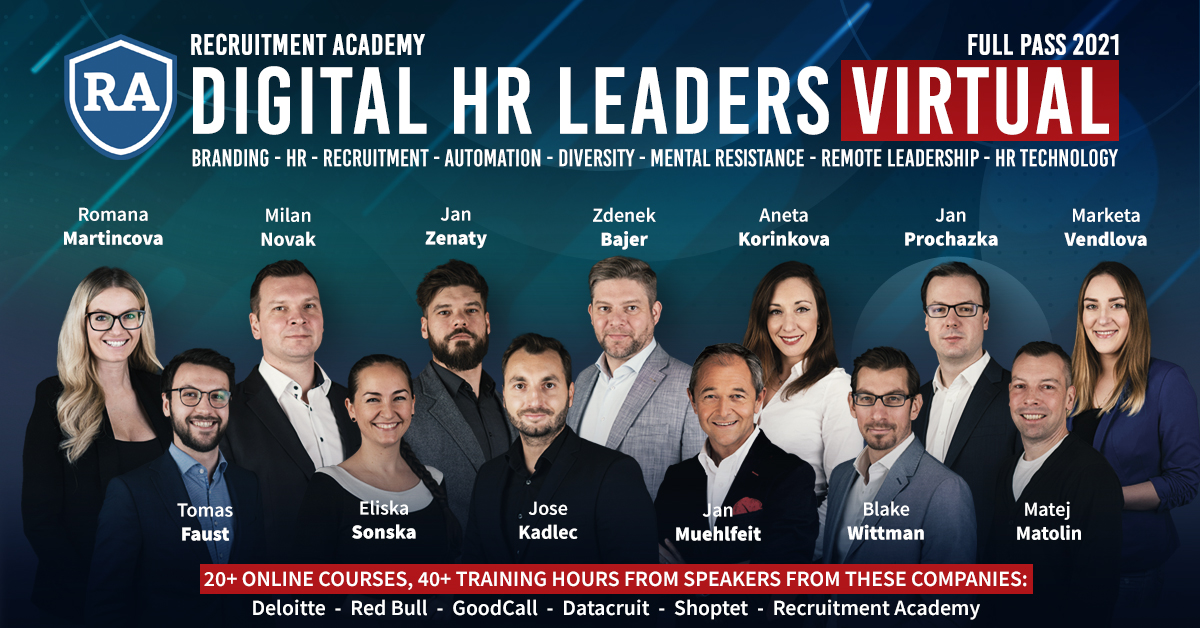 Digital HR Leaders is a unique series of 20+ online courses that will allow you to get the latest and most relevant knowledge in HR and more, giving you the ability to face current work challenges. Educate yourself from your own home with renowned professionals.

In this online series with 40+ hours of content we cover 6 main topics:
You can buy the course separately, starting at 29 EUR (excl.VAT). But when you buy the Full Pass you save 70% off the full price!
---
What you learn in the course:
March 2021

April 2021
May 2021
June 2021
July 2021
August 2021
September 2021
October 2021
*Courses by Jan Muehlfeit are not included in the Full Pass and have to be purchased separately.

All courses will be streamed live, and afterwards available as a recording. Additional information on each course will be announced soon.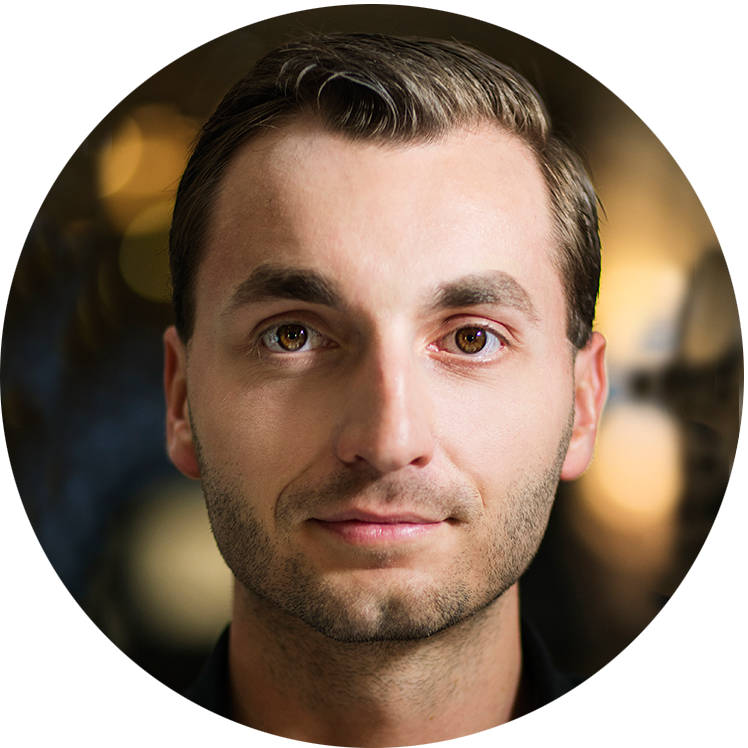 "There was a significant impact of Covid on recruitment and HR in general as well as in our organization. We at Recruitment Academy have managed to bring together 15 speakers coming from areas such as recruitment automation, mental resilience, employer and personal branding, social networks in HR, remote recruitment and many others. This training team will share its best know-how during more than 50 hours of training and prepare you for these turbulent days challenges."
- José Kadlec, CEO, Recruitment Academy
HOW DOES IT WORK?
After you register, you will receive an invoice for payment.
After we receive the payment, we will grant you access to the system, where you will see a list of all courses with dates and links for watching a live course or a recording.
You will have unlimited access to the recording.
You will find 20 courses in the system. Each lasts 1.5 - 2 hours.
We will send you reminder on upcoming courses the day before via email.
During the course you can give questions to the speakers via a live chat.
If you are interested in one of Jan Muehlfeit's courses, it must be paid for separately. After payment, it will be unlocked in the system.

After completing all courses, you will receive a certificate.

Regarding company orders, we can send a report to managers, where they will see what percentage of courses the employees have already completed.

THIS COURSE IS RECOMMENDED FOR
HR Specialists, HR Professionals, HR Generalists

HR Managers, Recruitment Managers, Talent Acquisiton Managers, Human Resources Directors

Recruiters, Talent Sourcers, Recruitment Consultants

Hiring Managers
GOALS OF THE COURSE
You will recruit employees more efficiently.
You will be able to digitalize and automate your HR processes.
You will know how to improve your personal and employer brand.
You will receive a complex education that will enrich your HR practice.

You will become a competitive HR professional who will be indispensable for every employer.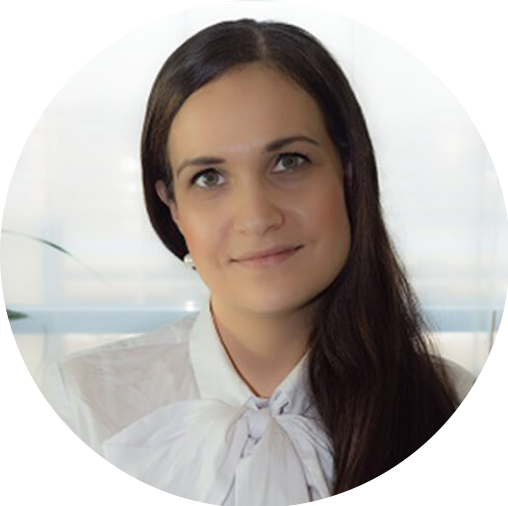 "I would recommend the training not only to people who actively work in recruitment, but also to anyone who is trying to break into the market or wants to move the presentation of their brand to a higher level."
- Martina Palacka, Senior HR Specialist, TietoEVRY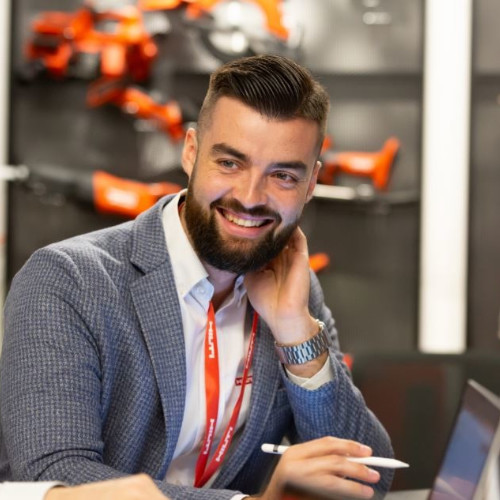 "I have already completed several courses at Recruitment Academy and I have always taken away practical tips and tricks, which I use every day at work. I recommend participation to everyone who is working on the transformation of a modern HR department."
- Vitek Vyhnal, Ex HR Manager, Hilti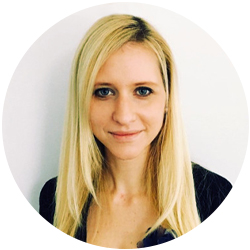 "These courses include practical examples, tips, and advice that you just can't find somewhere on Google."
- Veronika Praskova, Senior Recruiter, NTT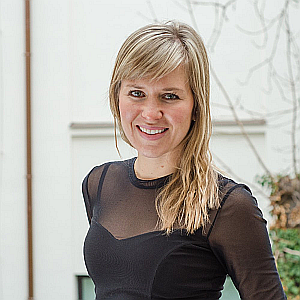 "I had the opportunity to attend several trainings from Recruitment Academy. I have was always met with a very professional approach from all the lecturers. I still use the tips I have learned in my recruiting practice. Although I am a senior recruiter and I am actively interested in the latest trends. I was amazed."
- Zdenka Krejcikova, Senior Recruitment Manager, CN Group
FREQUENTLY ASKED QUESTIONS
1. If I can't watch the online course live, will I get a recording?


Yes. This subscription (RA Full Pass 2021) includes recordings of all 30+ online courses in the DIGITAL HR LEADERS - VIRTUAL program.

2. What is the advantage of attending the online course live?


You can communicate with the speaker or other participants through chat. So if you have any questions, you will get an answer immediately.

3. What if I need training for my whole team?


It is not a problem. We have a discounted subscription option for companies (Company Full Pass 2021), which you can purchase for 2 or more employees from your company.

4. When ordering a course for a company, should I buy a company or individual subscription?

A company subscription is valid only if you are geetting the course for more than 2 employees in one company. If you are about the purchase the course for only one person, choose the individual subscription.