LinkedIn is primarily used for outbound techniques such as outbound recruitment (a recruiter or a talent sourcer contacts a list of specific candidates) or outbound marketing (reaching out to prospects). But the inbound part (such as HR marketing through job posts or building your personal brand as a recruiter) still makes a lot of sense as well. Even if it might be pretty different from Facebook inbound techniques due to the fact that LinkedIn is not visited as often as Facebook by regular people. On the other hand, the quality of data (imagine the information on your LinkedIn profile) on LinkedIn is much stronger than on Facebook.
So especially for ramping up your personal brand which we know elevates the brand of your company too, LinkedIn is the go-to platform. People watch people on LinkedIn primarily so I believe that evolving your business personal brand is the most underestimated part of today's business and recruitment world.
Here are my 5 unorthodox hints how to increase the visibility of your LinkedIn posts.
1. Do not use external links in your posts
No social media network likes when you lure their visitors outside of their app or website. And that is exactly what you do when you use external links.
So the ideal post can look like the following one.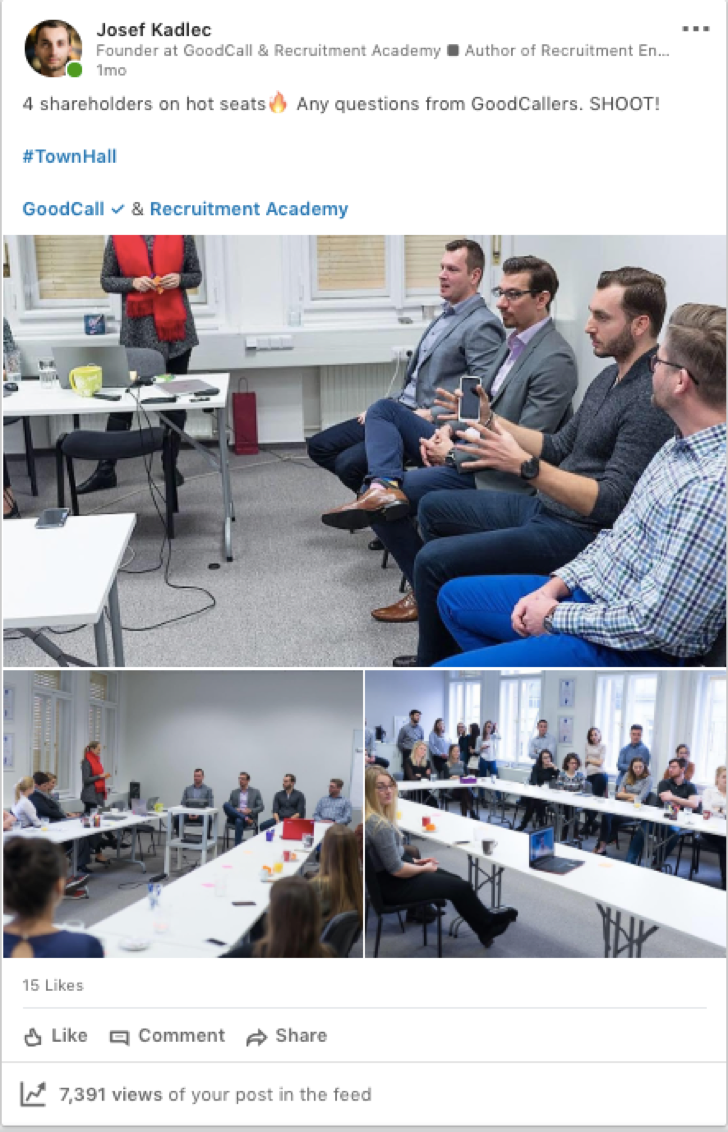 You can see just some text and hashtags. I also tagged two companies. And it's a collage photo which is now possible to do. With that I reached 7,391 views of the post with 15 likes only. By using an external link, I would need to get more likes and/or comments to get this number (of course there are also other factors such as the number of your followers or the time when you post it).
The thing is that sometimes you simply need to use an external link; typically when you promote a vacancy or your career website. Yes, it is possible to draft a job ad where you put all the info into the body of the post. Or you can use Post a document type of the LinkedIn post.
But let's say you want to forward the visitors of your post somewhere to another website.
How to do that without losing views of your post?
a) Put the website link into the comments and create a reference to the particular comment
One technique is that you create a post without a website link. Then you comment on the post right away with the desired website link. You can get the address of the LinkedIn comment by using Copy link to comment function.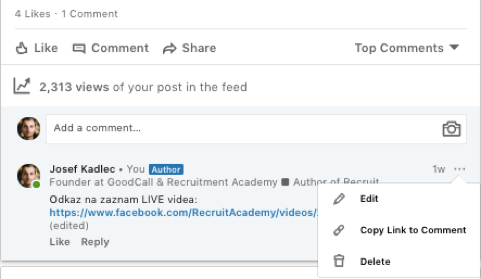 And you paste this comment link into the original post by editing the post.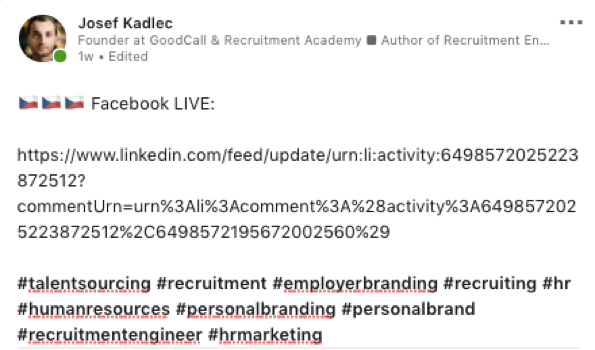 The comment link looks ugly but it is going to be shortened to the standard LinkedIn shortened links ultimately so your followers cannot recognize any difference.

b) Put the content into a LinkedIn article and reference to it
LinkedIn articles is a great way to promote your content because your content is placed at one of the most visited internet domains globally. You will never have that with your own blog on your brand new personal website.

Unorthodoxly you can even use this format to promote your vacancies (example) or any other company content including career videos and photos from your events. It can be used as a landing page to promote e.g. a hackathon.
Creating a LinkedIn article will automatically create a post notifying your followers about the new post and referencing a LinkedIn article should be no harm to the organic reach and visibility of your post.
c) Put the content into Slideshare and reference it

This method is based on the similar principle as the one with LinkedIn articles. The problem is that people usually do not know that Slideshare.net belongs to LinkedIn. Slideshare is a platform for presentation-like content so any decks from your speeches, presentations, etc. is a suitable format for this service.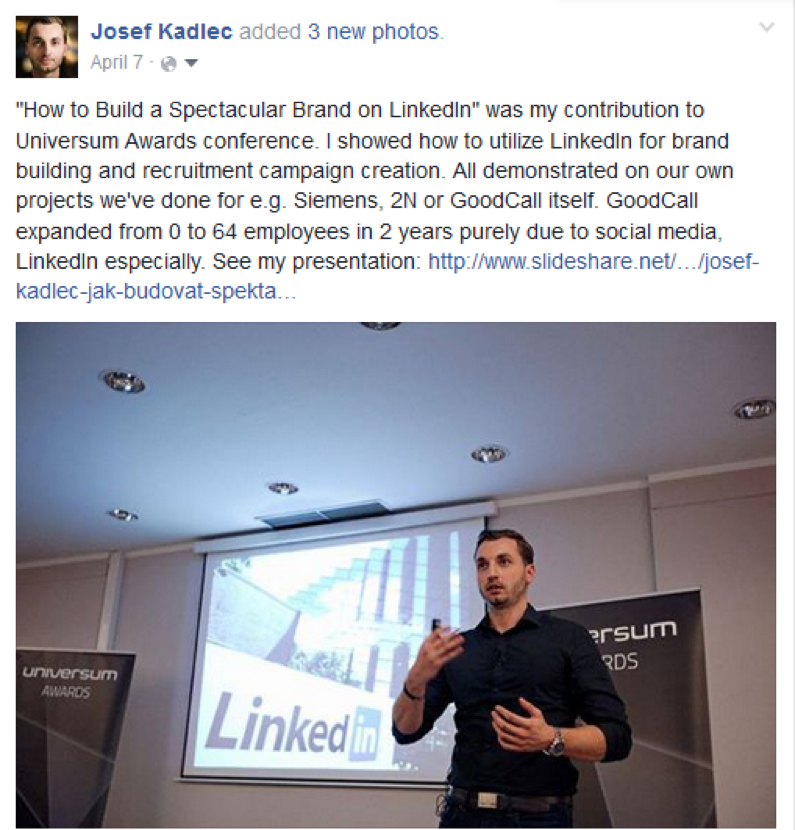 2. Use LinkedIn native videos instead of YouTube or Vimeo
There is a possibility to upload a native video to LinkedIn for more than a year now. The only limitation is that the video cannot be longer than 10 minutes.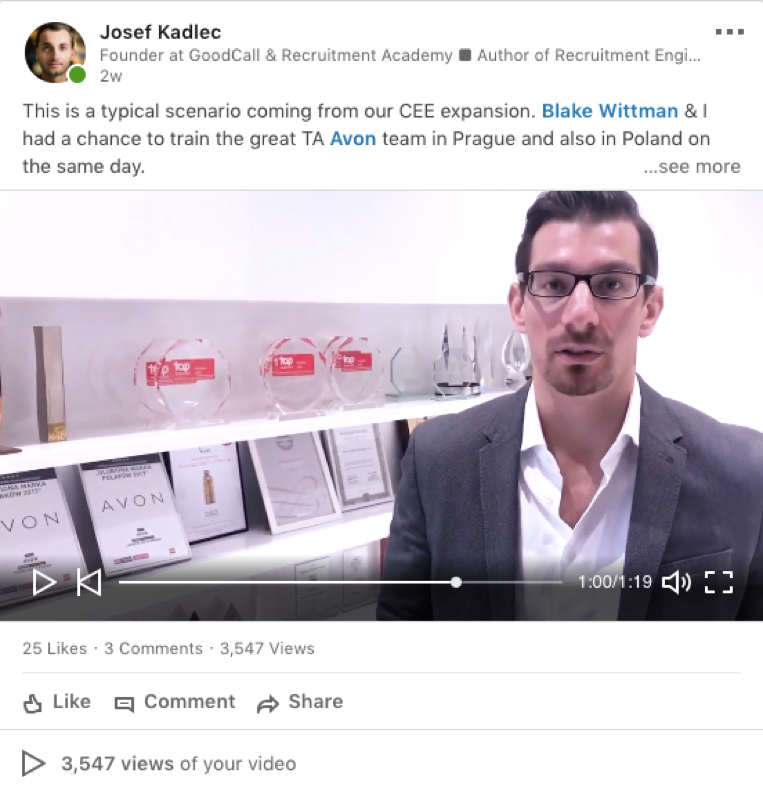 So using the same principle as Hint #1, don't send users from one platform to another. Use the non-native videos over e.g. YouTube only in the case when the video is longer than 10 minutes.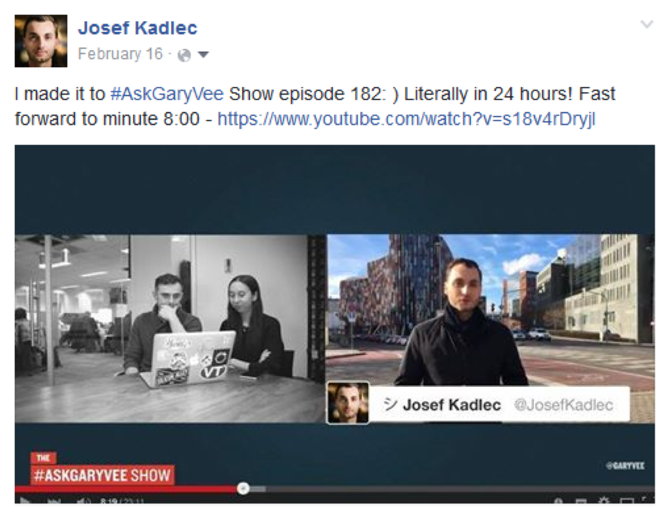 Btw: LinkedIn just announced that they are going to launch LinkedIn Live videos. Yeeeeah.
3. Create LinkedIn power-posts

Look at the post by the Recruiter of the Year in the Recruitment Academy Awards 2018, Zdenka Krejcikova, getting over 550 likes which got her almost 40,000 views.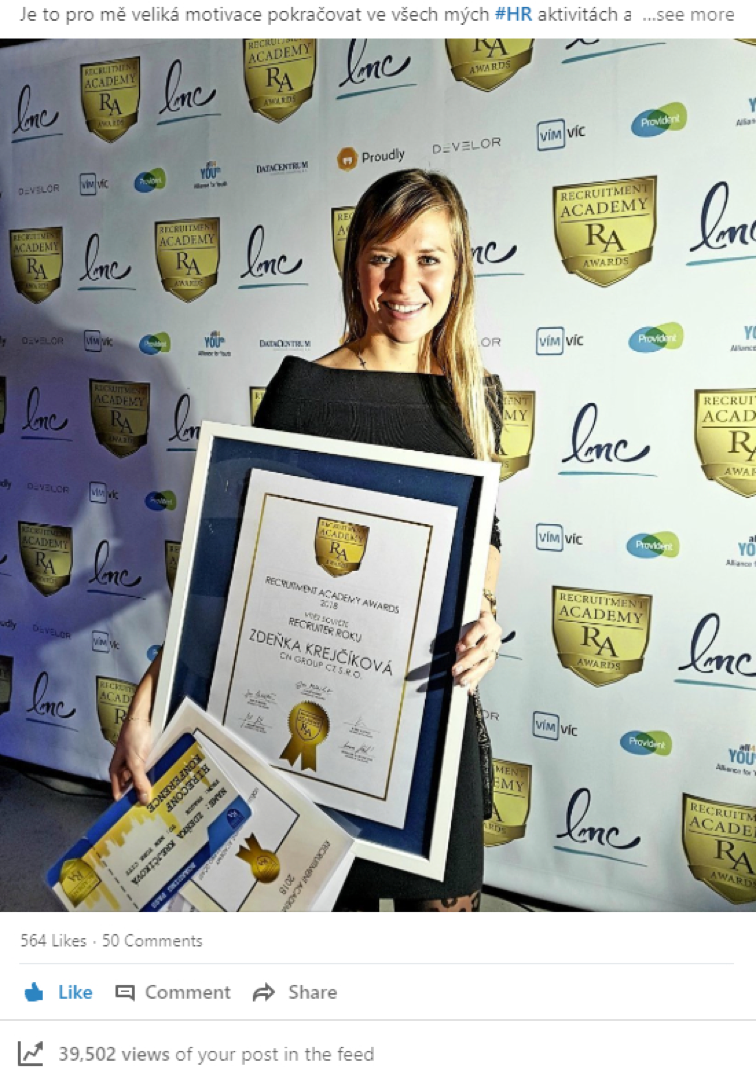 Another example is recruiter, Jindrich Krasny, with 781 likes, 77 comments which got him over 35,000 views of the post. Maybe it doesn't look like it but it is a professional post.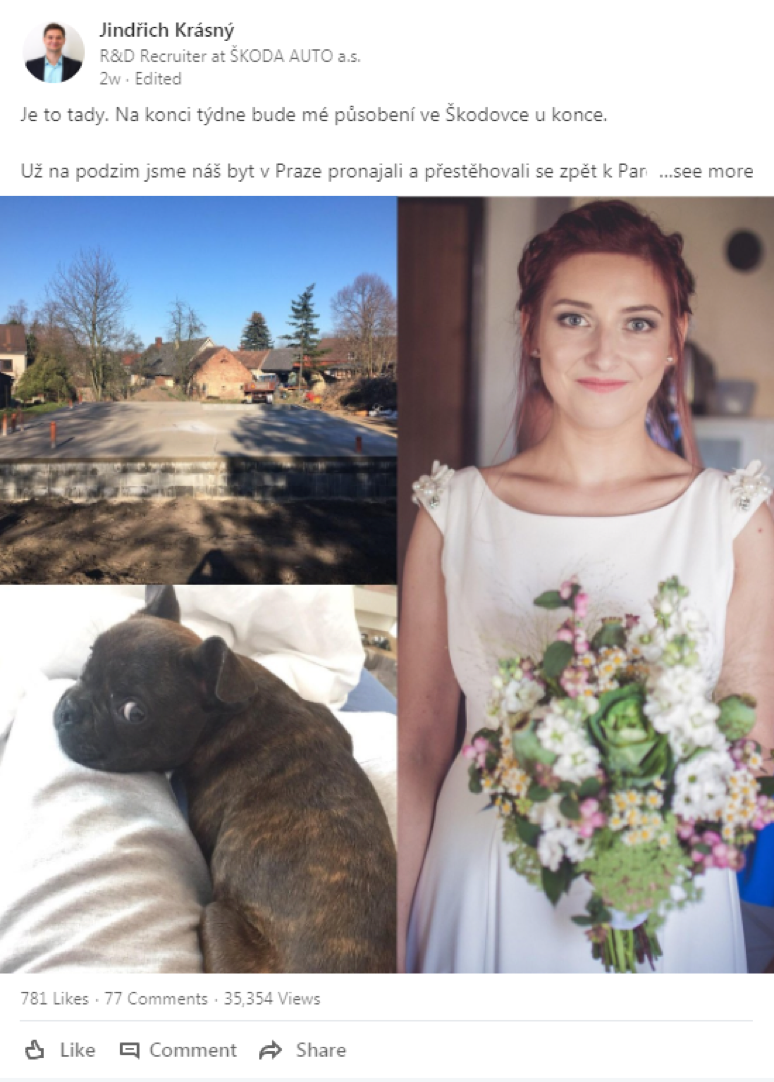 This is exceptional performance and organic reach (or visibility to be more precise) of these posts.

The engagement of this post is created by subjective matter. People like what they see on the pictures. The context of the post resonates with them. This is of course what we always pursuit and it is difficult to do or repeat on demand.
Anyway there are some techniques which can get you loads of likes and/or comments which will skyrocket the visibility of your post through the roof.
Imagine you are giving away something for free. Maybe an e-book, case study, cheat sheet, anything. When you put there a direct link for download, you are losing a lot of visibility by sending people or an external website link. Instead of that you can do something like this example when I was giving away my book for free using the picture with Jim Stroud in 2004.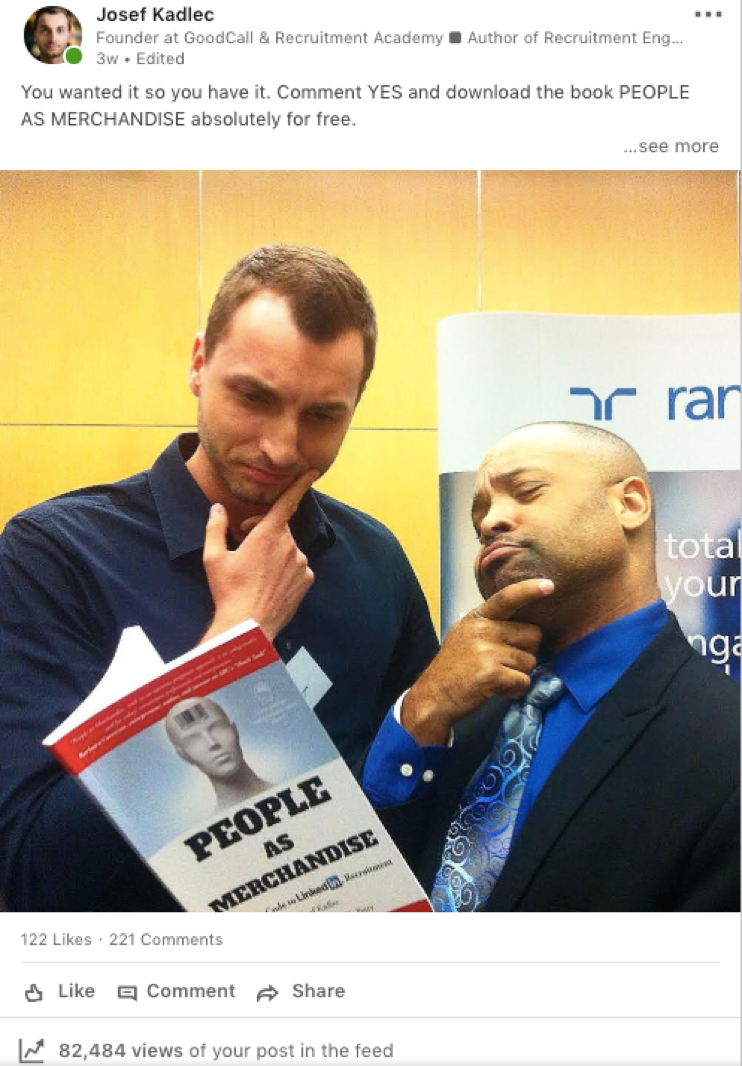 The sentence "Comment YES and download the book PEOPLE AS MERCHANDISE absolutely for free" does all the magic. The post received 221 comments and still a solid number of likes for the LinkedIn network (122 likes) which got me over 82,000 views. You can also ask for likes in a similar fashion but comments are stronger.
Regardless of the change in the LinkedIn algorithm, where more influential users are slightly hindered so that usercan also see a posts by normal people, you can see that you can still get a serious number of views per post.
4. Use uncommon LinkedIn formats
Maybe you are not aware that you can use a carousel effect similar to the one in Facebook.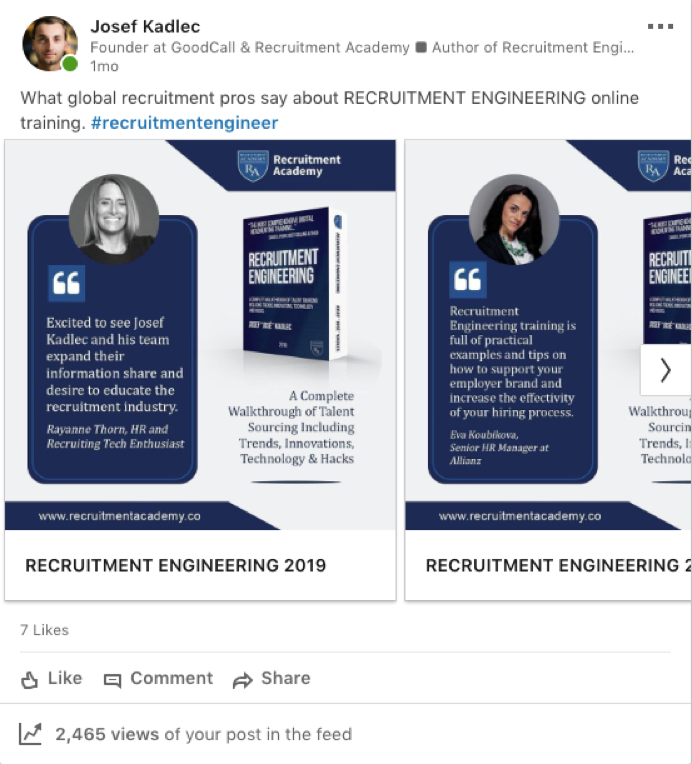 The post consists of several pictures and one website link. Users can use the arrow to horizontally scroll through them. This works for LinkedIn company and personal posts as well.
To be honest I have no idea how you can create this post natively in LinkedIn but it is possible to do it over the social media aggregator and scheduler Kontentino. I have experience also with Buffer and Hootsuite but Kontentino works the best also in terms of user-friendliness. I haven't experienced any bugs there and the posts look correct, unlike the other two mentioned systems. For example, the following post was posted by Buffer and you can notice the ugly grey borders around the picture which wouldn't be there when you post the picture natively.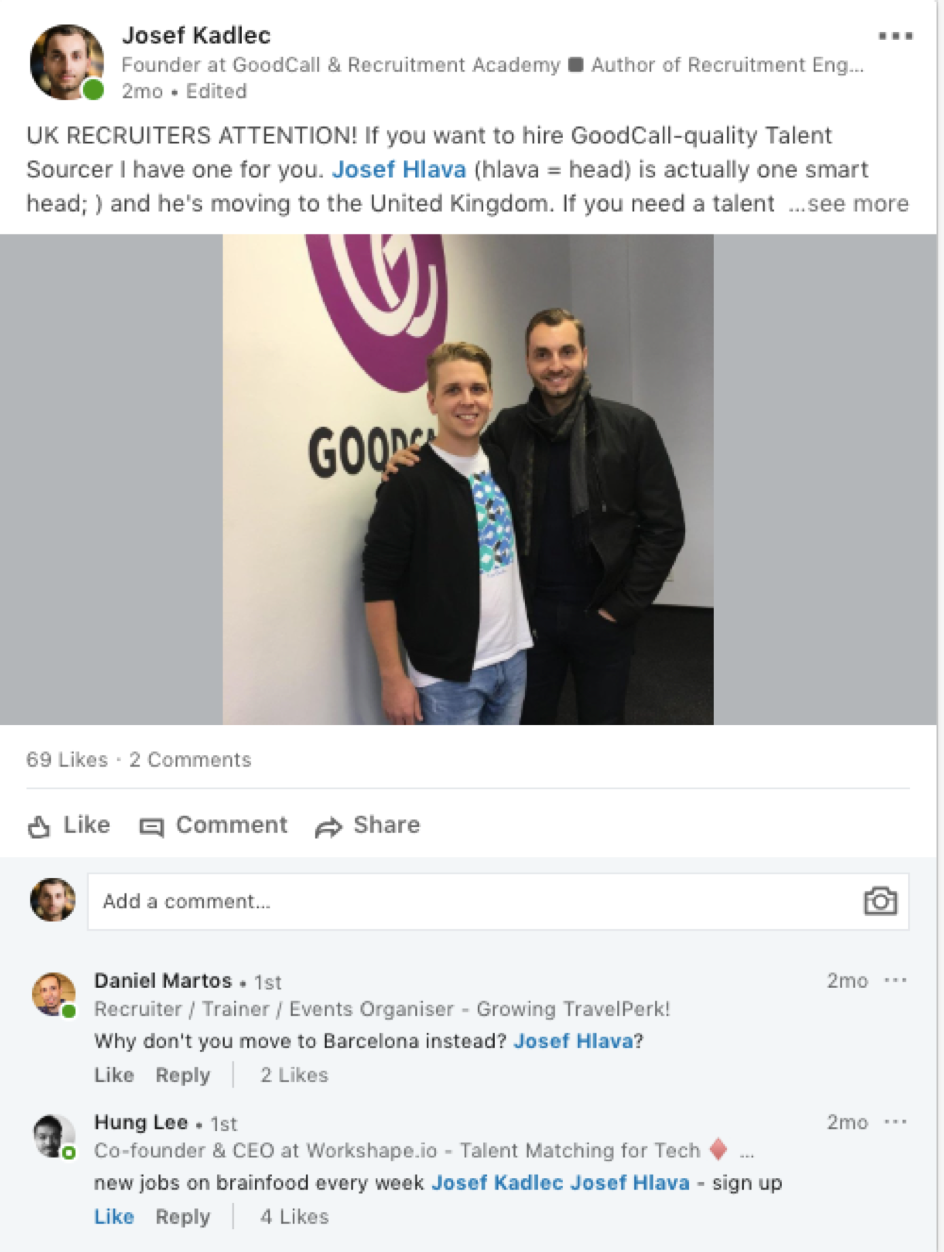 Plus Kontentino gives you the possibility to create a carousel post.
You can also use GIF pictures (pictures in motion) on LinkedIn. There were times when it was not possible but now it works again just fine.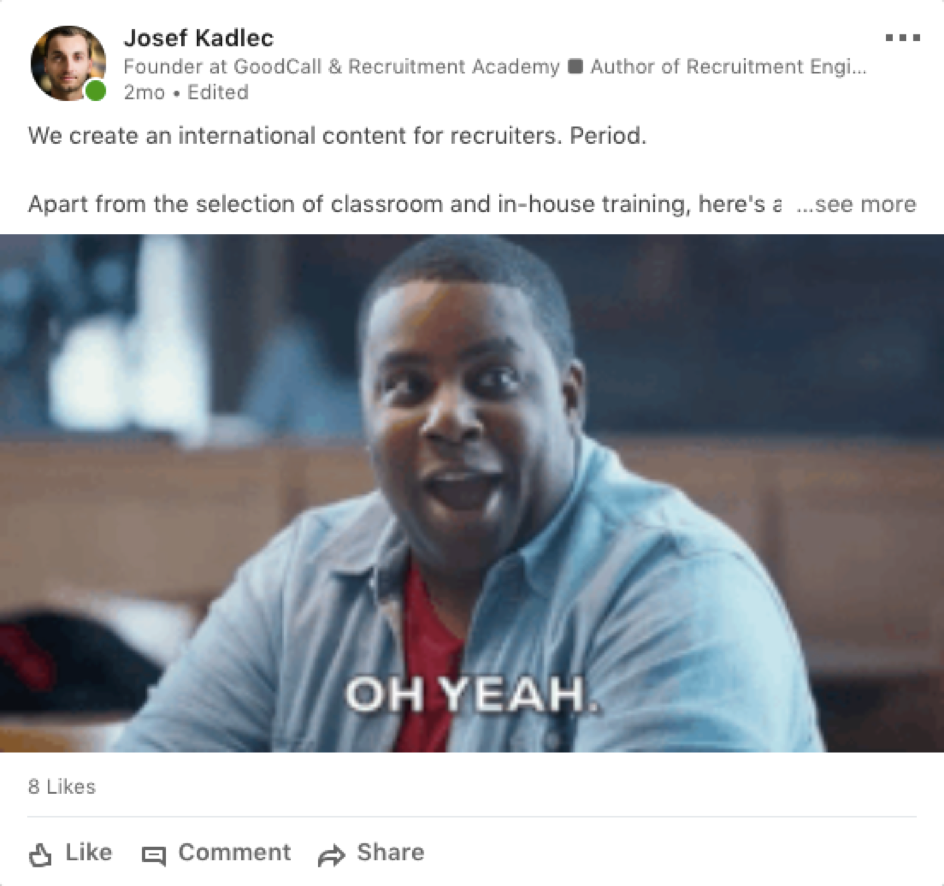 The rich database of moving GIF files is giphy.com.
5. Don't share company posts for visibility
Personal posts over company posts. This is valid not only for LinkedIn. Company posts will always be pushed down while personal posts, on the other hand, are more promoted. That is also why I recommend to use profiles of your owners, managers and employees to promote company content.
When we count just the fact that each one of your 1st degree connections is your follower automatically, you can quite easily have 30,000 followers just by adding more people into your network. 30,000 is the hard limit on the maximum number of your 1st degree connections. Try to get 30,000 followers of your LinkedIn company page. That is hard work! And still you would have a lower engagement rate due to the fact that LinkedIn puts company posts at a disadvantage artificially.
So sharing any post which belongs to some LinkedIn company page achieves also a weak visibility.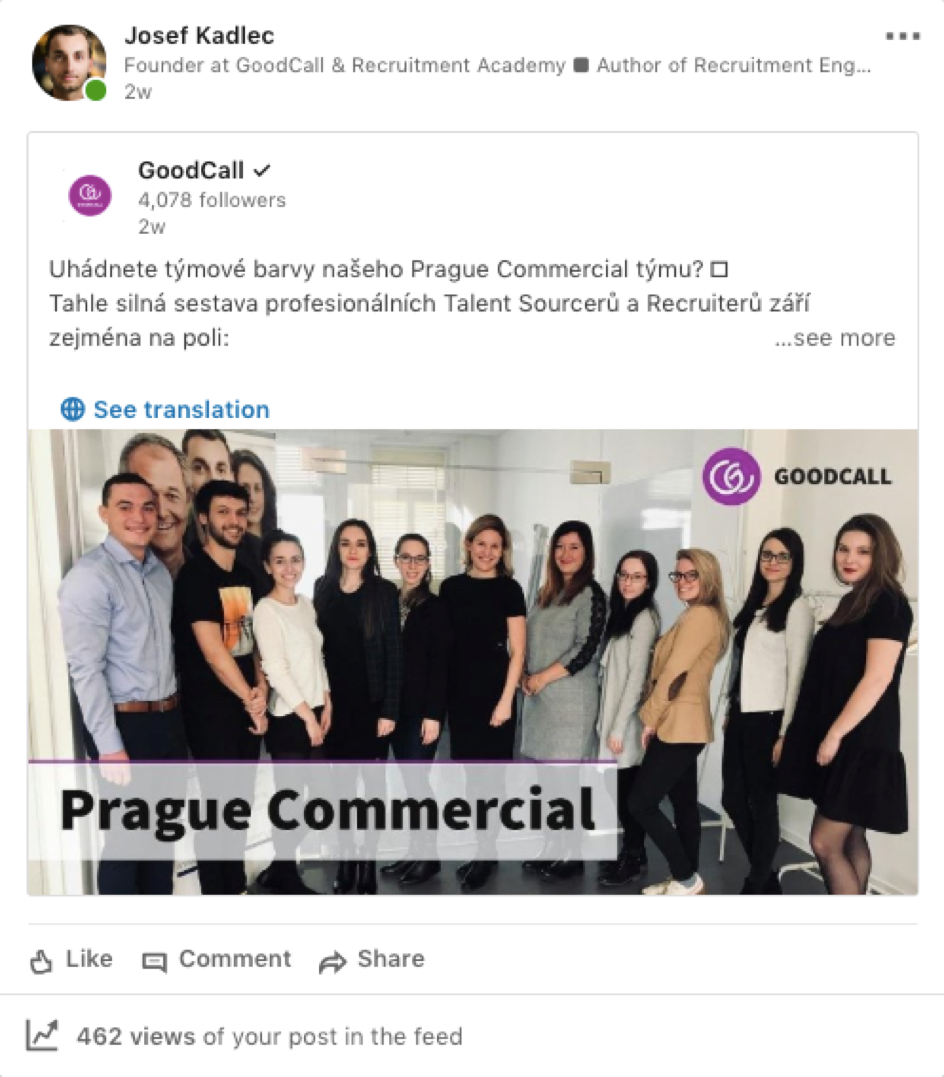 I'm not saying don't share LinkedIn company posts at all but don't expect high numbers of views. If you want to put out a message that will get a better number of views you would need to download the picture (in this case) and copy & paste the post as a native personal post. Sometimes it doesn't make sense to do that from your position because the context is not right. Someone might even think that you've stolen the content.
And that's about it. There are even more ways how to increase the visibility of your posts such as by using hashtags, good quality pictures, etc. but those are not so strong. You can study the whole LinkedIn algorithm in the article How the LinkedIn Algorithm works in 2019.
There are also some cooperative plugins which you can use for a sort of artificial ramp up of your LinkedIn posts. One of them is lempod which is a plugin which allows you and your friends and colleagues to group together in a pod and when someone from the group creates a LinkedIn post, it is automatically likes and/or shared by other peers in the pod. Pretty neat.
If you're lazy reading, follow HIRECONOMICS on Youtube.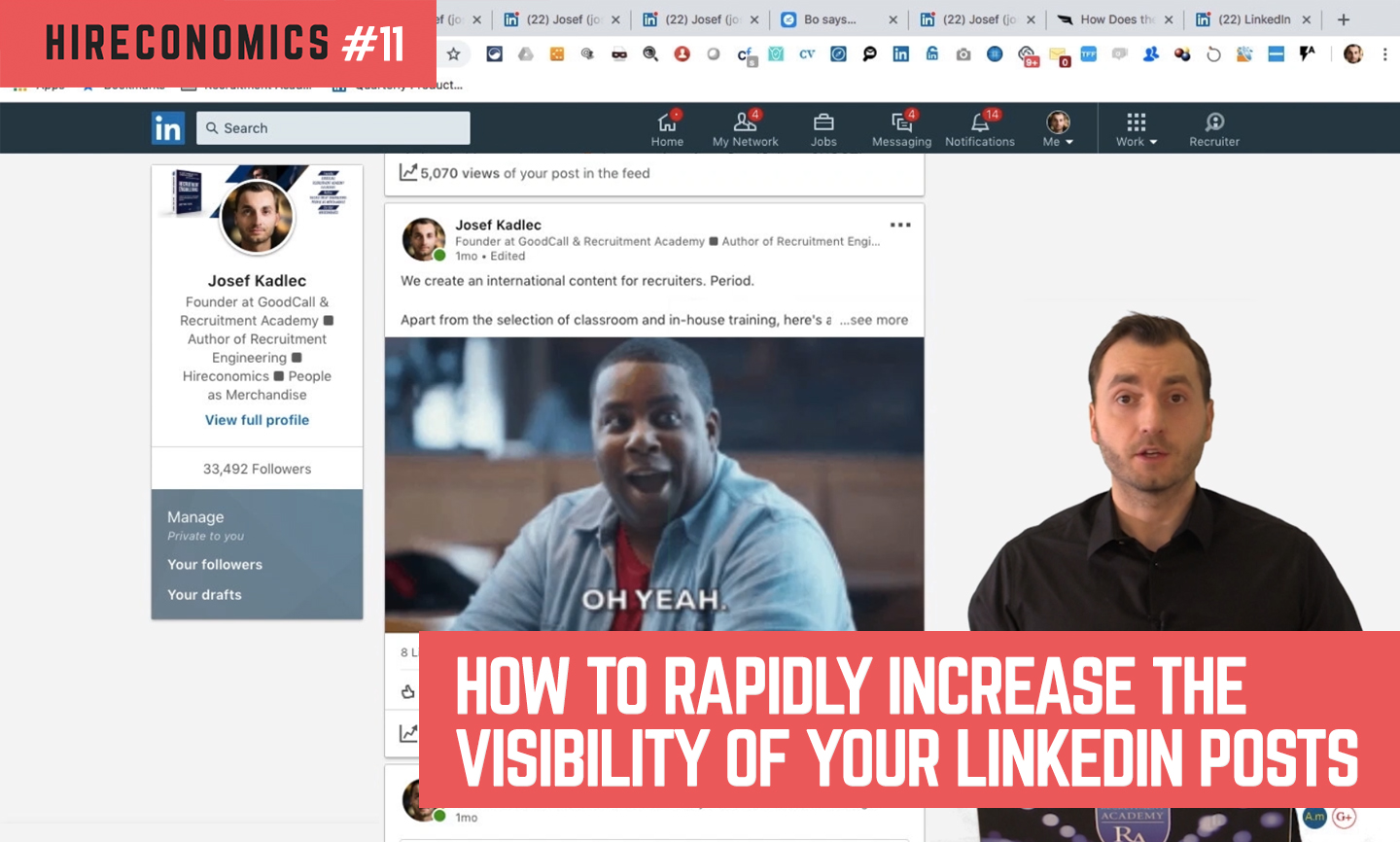 If you want to know more about talent sourcing techniques and social media recruitment methods, visit the website of Recruitment Engineering training.