This episode is not only about recruiting foreigners from abroad but also also recruiting foreigners on your local market - plus candidates from abroad to their home country. Or just local candidates with a knowledge of some foreign languages.
When training our own and even external talent sourcers, I have noticed some assumptions and bad habits which lead them to a situation that they actually lose relevant candidates in the process of searching.
This is why I bring to you my 5 aspects of international recruitment and talent sourcing.
1) Searching people by foreign language proficiency
The LinkedIn filter Profile language does not mean the language knowledge
There is a filter Profile language in the non-paid version of LinkedIn which is sometimes confusing to many people.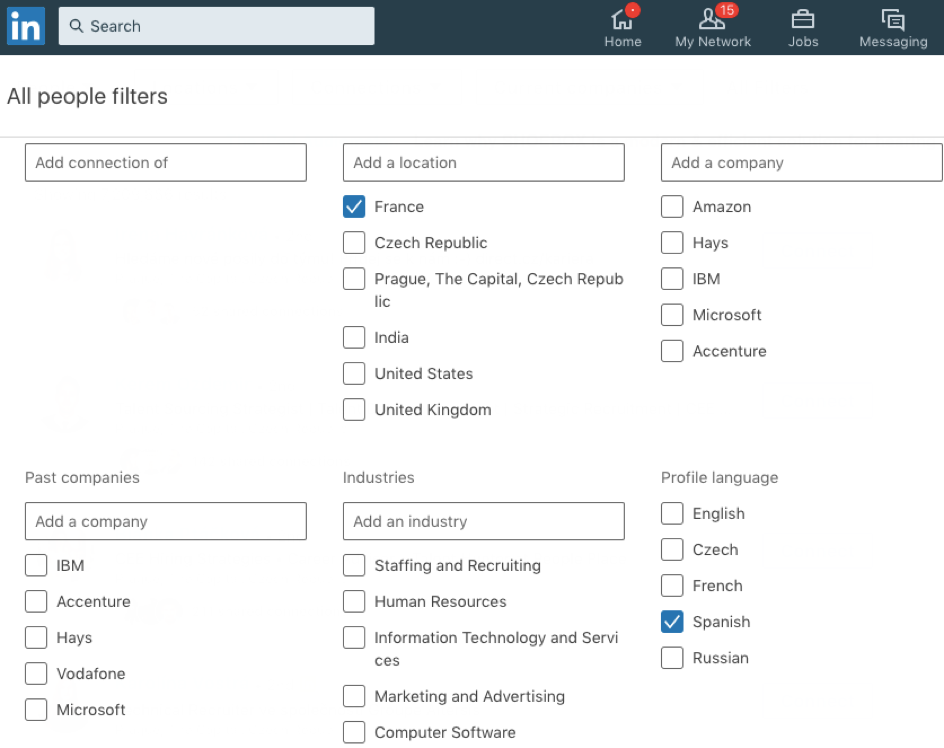 People think that this is the filter to search people by a language knowledge. The thing is that this filter finds people having the selected language just as their LinkedIn profile preference.
For instance, I'm a Czech citizen. I have selected the Czech Republic as the location on LinkedIn. I also selected the Czech language as my language knowledge on my LinkedIn profile. But you would never find me under Czech in Profile language because my profile language preference is English.
So if you select Spanish and you are looking for people in France, you will definitely find some people and those people will have a very good Spanish language in the most of the cases. But overall there will be far more people having a good level of Spanish in France beyond the search you did. They just don't have Spanish as their language preference because they probably have French or English.
Spoken language filter went through significant improvement so use it
So let's say I'm looking for people with Swedish language in Malta. If you have some type of LinkedIn Recruiter account, you can use the Spoken language filter.

LinkedIn dev team have improved this feature a lot since they put it live not a long time ago. So now you can easily select even widespread languages and if you select e.g. Swedish, it will also cover people who put there the local equivalent of their language (e.g. Swedish such as Svenska).
Plus you can select the proficiency of the selected language. If you select Professional Working, it will also cover people with Full Professional and Native or Bilingual proficiency.
If you have just the basic LinkedIn account, you can use the keyword search for the desired languages.

The advantage of this search is that it is going to find people who didn't put it into the language section on their LinkedIn profiles. Or when they use some less frequent form of the word for the language – e.g. for the Czech language we can use either Čeština or Česky. To be frank, I use this type of search in LinkedIn Recruiter even if there is the filter Spoken languages to avoid any losses.
On the other hand, the disadvantage is that it cannot diversify people by language proficiency so you need to go through many profiles to uncover candidates with a good knowledge of the language. And it will also include people who do not have the knowledge of that language but the language name is mentioned on their profiles in a different meaning – someone might have the current employer e.g. Logistics Svenska and have no knowledge of Swedish language as all.
If we want to be really exhaustive, we should also use the word Swedish in any other world languages. Imagine a French person living in Sweden having his or her LinkedIn profile in French. This person might use the French word for Swedish which is suédois. So an improved version would be swedish OR svenska OR suédois.
We still might miss Swedish people in Malta who did not mention Swedish or Svenska anywhere on their profiles. We could try to look for people in Malta who have some typical Swedish first name or last name. Or who studied some Swedish university or worked for some typical Swedish company.
There are 4 times more users onFacebook than on LinkedIn so use the language search there too
This would also work on Facebook of course. You can use any tool based on Facebook Graph Search such as Facebook Intelligence Search, SearchIsBack or any other similar tool.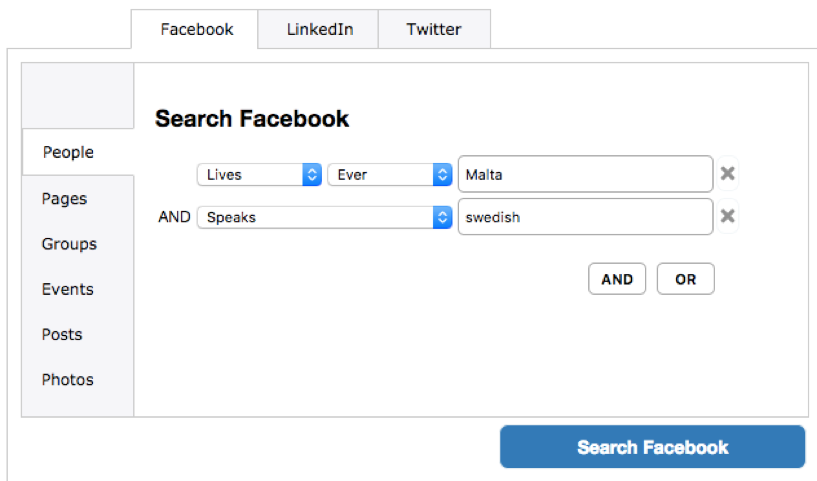 Searching for multi-lingual peoplefrom their native countries
Another way to look for Swedish speaking people in Malta might be to look for them directly in Sweden. Most of the sourcers would just change the location from Malta to Sweden while keeping the keywords.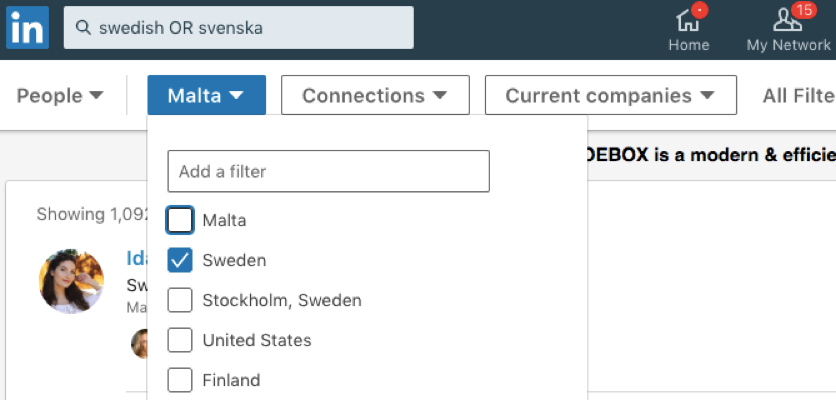 But that is where you are going to lose some relevant candidates. Why? Because you double the requirement which is usually a bad thing on LinkedIn. Once you selected Sweden as a location, the vast majority of people in the search results will actually have a great proficiency of Swedish. So if you require them to have Swedish also as their language, you will lose people who haven't filled Swedish as their language at all. Swedish is so common for people in Sweden as well as Dutch for people in the Netherlands that they might easily not mention it on their profiles.
This works also for example for the English language in countries where you can expect that it is a common knowledge. I may assume that Software Developers can usually speak English in the Czech Republic so I would not put English as a requirement to avoid candidate loss.
The better scenario is to find out that some candidate cannot speak English properly in the screening phase than lose a candidate with good English in the process of sourcing.
This would work on Facebook in the same way.
2) Searching candidates from more countries repeatedly

In Europe you might be searching for candidates from any EU country due to the work permit limitations. But selecting 28 (not counting Brexit) locations every time you want to do a search may be quite a hassle.
In this case, I recommend you to save the search. In the basic LinkedIn account, you can either copy the LinkedIn URL or save the LinkedIn search.

Btw: You can do a similar Facebook search but you will probably go country by country due to a bit different interface which does not allow you to see a bigger context which you are used to seeing on LinkedIn.
Bear in mind that there is a bug in the basic LinkedIn version which requires you to put something into Keywords field to make the Create search alert button appear.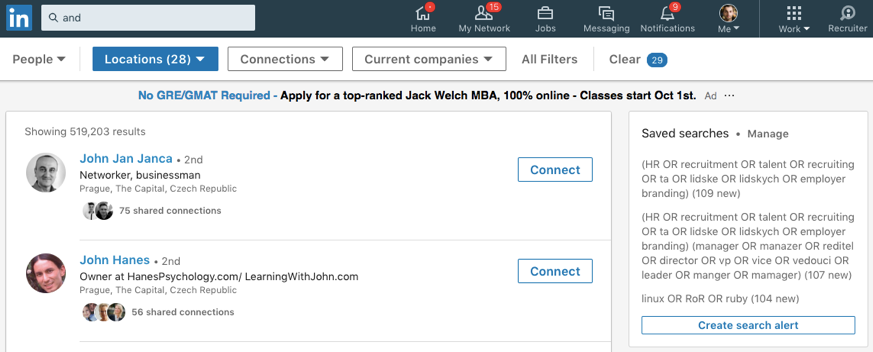 Or use Save search icon in paid LinkedIn Recruiter account (or LinkedIn RPS or LinkedIn Recruiter Lite).

3) Use the local names of job positions
We were searching for people with Swedish in Malta as an example. If we want those people to be assistants, we would use it as part of the search. To avoid any candidate loss, we have take into account that those people might put the Swedish term for assistant. And that works for both cases if you look for Swedish people in Malta or people in Sweden who would relocate to Malta.
In this case we have to open Google Translate and find out that assistent is assistant in Swedish.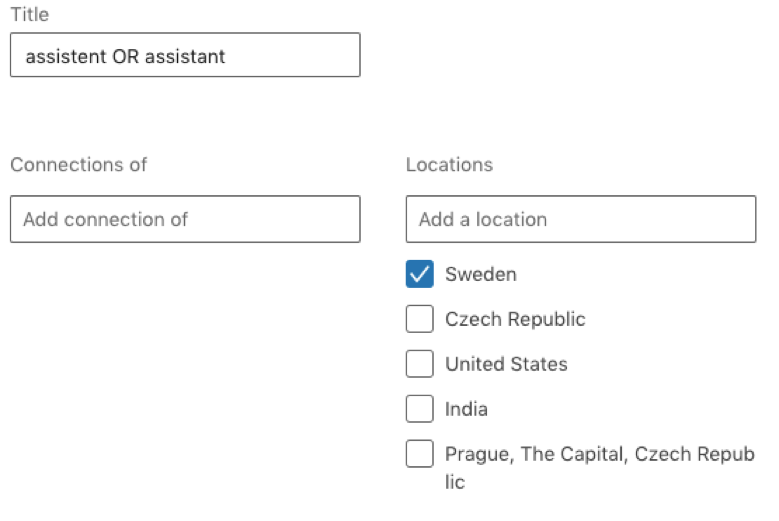 There are many completely different languages in Europe so this is applicable in most countries and languages - and beyond Europe too of course.

4) Searching for people willing to relocate

There is that new feature in Career interests on LinkedIn where people can indicate that they would like to relocate to another city or a location. When you have LinkedIn Recruiter Lite or higher, you can actually search by this.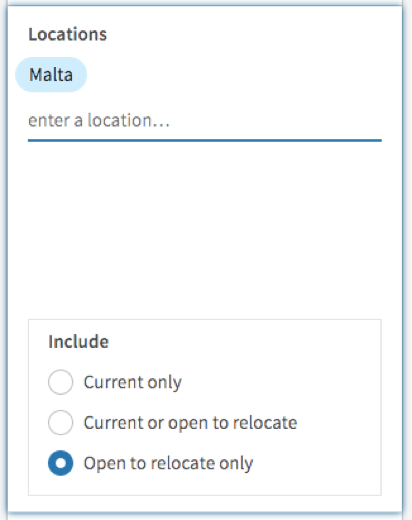 Another way how to filter down people who are willing to relocate might be via keywords such as "open to relocate" or "willing to relocate".
5) Sourcing people back to their home country
The last aspect of international recruitment is hiring people from abroad to their home country. Let's say I'm looking for candidates who are Germans and they should work in German. I might be looking for any Germans who are outside Germany for definite or indefinite period of time.
One method might be using German universities. We can search for candidates from e.g. any EU country but Germany who studies at one of the German schools.
Another technique might include searching by typical German first names such as Hans which are not overlapping with other countries. Or in this case more preferably last names such as Muller, Schmidt, Schneider, Fischer, Weber, Mayer, Wagner, etc.

Happy international hunting!; )
---
SPECIAL PROMO
Because we appreciate any quality recruitment & sourcing content, we would like to support Hung's Lee Recruiting Brainfood with an exclusive 50% discount for our full Recruitment Engineering online course. Use the promo code BRAINFOOD50 and enjoy.
---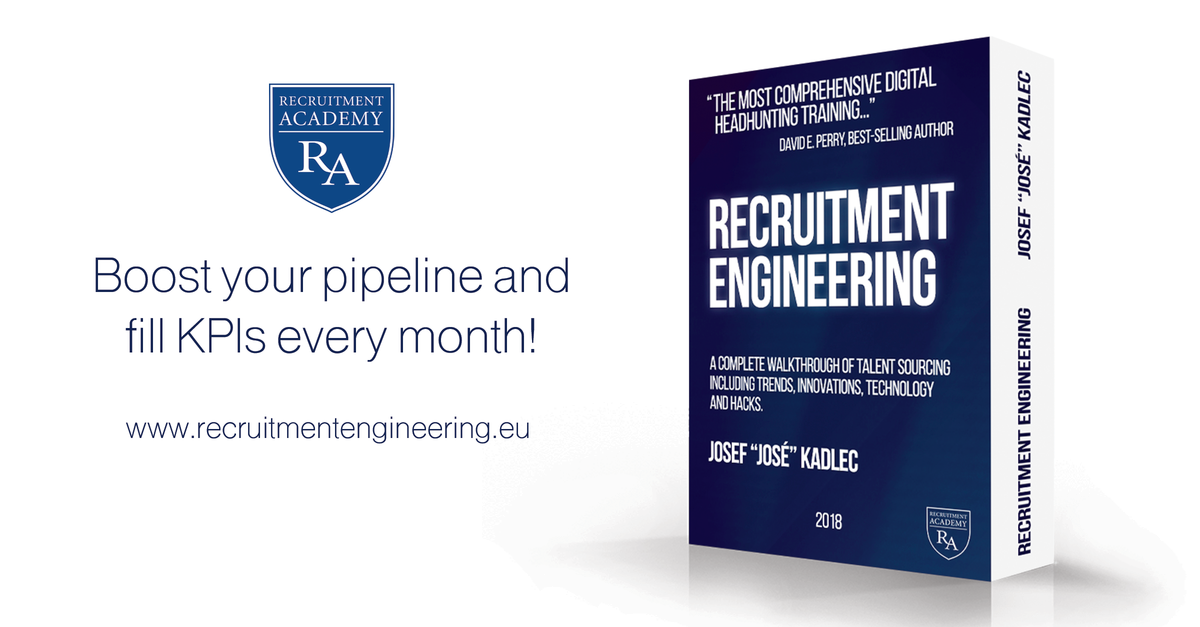 See more at: www.recruitmentengineering.eu