I've written a ton about the method I call video sourcing, which basically means using video in recruitment. However, you're not using it for inbound recruitment by making for example career videos, but to directly approach your candidates – outbound recruitment. I can say from my own experience that this translates into rapid growth in candidate response rate even in the case of software development positions that are most difficult to fill. At the conference Sourcing Summit recently held in Munich, Mark Lundgren and Bas Westland mentioned the method even in relation to positions within IT.

Since technology development is moving forward, there are more possibilities to apply this technique. In today's Hireconomics I'd like to introduce one particular tool called Loom.
Loom is a Google Chrome plugin (or extensions if you like) enabling you to make a video in just few clicks.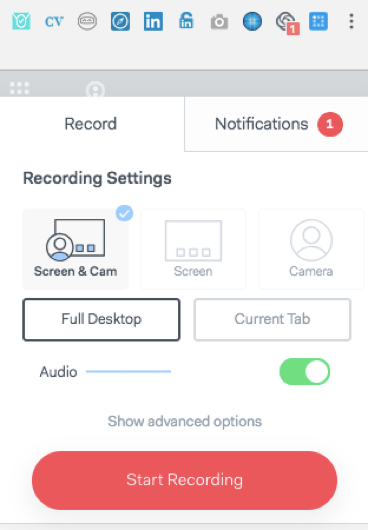 To record a video just click on Loom icon. By that you get a variety of options to record a video.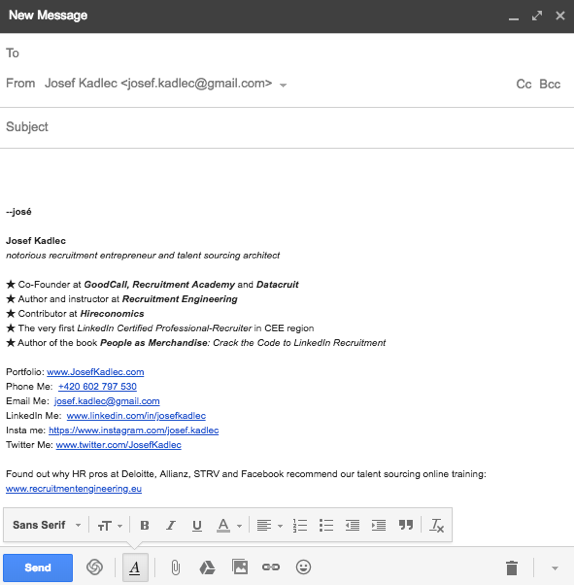 Similarly, you can record a video by clicking on Loom icon next to the button Send in Gmail. When you're done recording the video is automatically embedded, along with its preview, into the body of your email.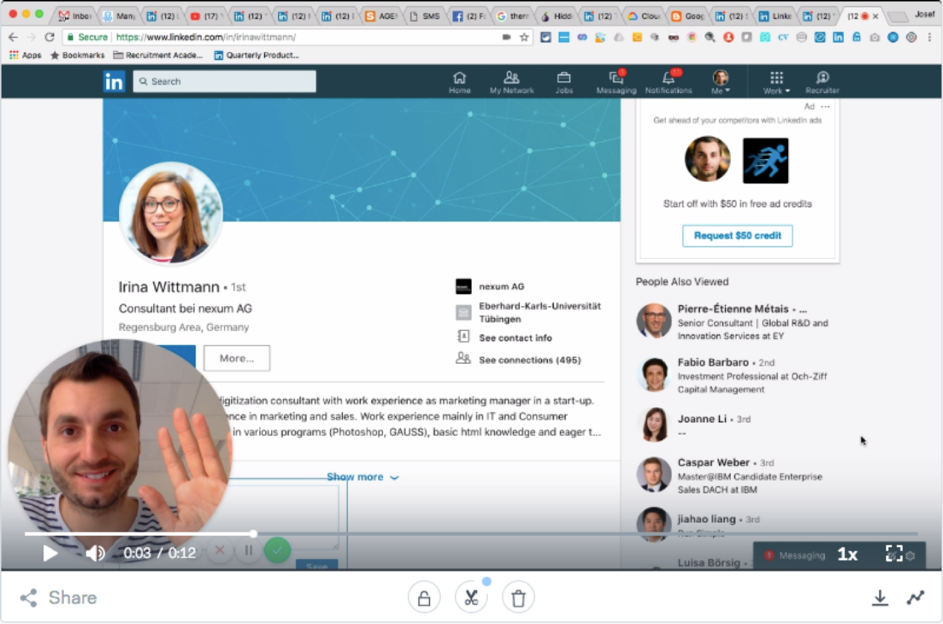 You can basically choose from different modes of recording but the most interesting one is a camera-desktop combination. You can, for example, open a LinkedIn profile of the candidate who you're about to contact. The candidate then sees what you can see in the picture below.
One of the perks of this approach is that your candidates will definitely play your video if you also create a video preview, where they can see their own profiles. Who wouldn't play a video when they see themselves in it, right?
Then you can explain and really sell a job offer to your candidate for example at your webpage or in a job description. You can capture in a video just what you've opened in your Google Chrome browser. The plugin isn't allowed to record anything lying outside the app.
After saving the video you get several options what to do next. You can add it to the body of your email directly through the plugin Loom and then send it right away.
Note: Candidates might not be able to see the preview depending on whether they have image preview enabled or not.
Another option is to send your candidates a link to the video via LinkedIn invitation, which was impossible until recently, LinkedIn message or e-mail.
And as a cherry on top you get a notification right after the candidate is done watching the video. You can immediately pick up the phone and call your candidate for a follow-up interview assuming the person fits your group of targeted candidates.
Do you have your own recruitment approach, trick, hack, tool or anything that you'd like to share with the recruitment or talent sourcing community? Give us your thoughts in the comment section or send me a message and together we can write an article or shoot an episode for Hireconomics right in your company.
You can watch HIRECONOMICS episode 7 as video as well! See more at our HIRECONOMICS vlog.
Happy video hunting!
See more at: www.recruitmentengineering.eu